Helping Your Oregon Business Stay Properly Equipped
When you need help choosing a fire extinguisher for your Oregon business, call the professionals at C & S Fire-Safe Services, LLC. We help you understand the five classes so you can choose the fire extinguisher that is best for your business:
Class A – Wood/paper/trash
Class B – Flammable liquids
Class C – Electrical equipment
Class D – Combustible metals
Class K – Cooking oils & fats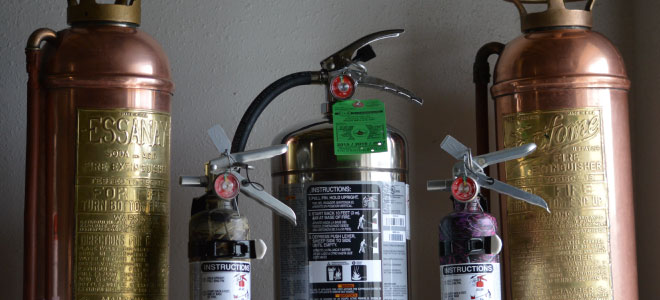 Meet the Code & Fire Marshal Requirements With Our Inspections
What are some things the fire marshal look for when it comes to fire extinguishers?
Properly tagged and inspected
Proper distribution
Fully operational devices
Appropriate device for the area
Damage
There are many things to consider when deciding on placement and making sure all parts are working. Some inspections should be done yearly or monthly, so let us help you stay in compliance with applicable codes and standards.
Learn How to Use an Extinguisher
We can provide a live fire training class or a classroom training session to teach you and your personnel how to safely use a fire extinguisher. We help you stay in compliance with OSHA regulations for training.
In fact, the Department of Fire Protection Engineering at Worcester Polytechnic Institute (WPI) and the Fire Protection and Safety Engineering Technology Program at Eastern Kentucky University found that with just a little training, 98% of participants in a study could effectively use an extinguisher.
Ensure Your Fire Extinguisher Meets Your Needs
Call C & S Fire-Safe Services, LLC for the fire extinguisher sales and service that meets your specific business needs. We can help you determine if:
Set up an inspection and maintenance program

Ensure extinguishers are hung properly & accessible
Why Choose Us For Fire Extinguishers?
C & S Fire-Safe Services, LLC has a guiding philosophy that all technicians take to heart. We always:
Keep our word and provide excellent service.

Keep our clients informed of relevant fire safety issues.

Work professionally with the highest industry standards.

Make sure communication is honest and as open as possible.

Stay until the job gets done.
Call us at (541) 673-1337 to discuss your commercial fire extinguisher needs. Explore our website for more information about additional fire safety services we offer.