Covering Your Complete Fire Safety Inspection in Oregon
The right fire equipment is key to keeping your Oregon business safe from harm. Regular fire inspection & safety testing is key to ensuring that equipment will be ready in the event that you need it.
That's why C & S Fire-Safe Services, LLC inspects and tests all of your fire safety equipment, including:
Fire Alarms

Fire Extinguishers

Sprinkler Systems

Safety Lighting

Commercial Kitchen Fire Safety Equipment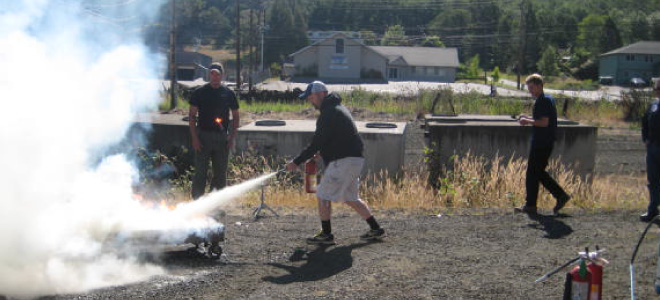 What Can I Do Myself to Make Sure I Stay Up to Code?
There are actually many things you can do on your own to ensure fire safety. It's a good idea to:
Make sure flammable liquids are not in the open

Remove items stacked up high that get in the way of sprinklers

Pay attention to your maximum occupancy

Make sure any infrequently used doorways are not blocked
Take these measures to help prevent a fire, but nothing is certain. That's why you need to call the expertly trained technicians at C & S Fire-Safe Services, LLC to walk you through every aspect of a correct inspection.
For example, did you know that sprinklers should be inspected every time you experience a water shortage, add on to your building or change certain features of your plumbing?
Each piece of fire safety equipment has unique needs. Call C & S Fire-Safe Services, LLC for help.
How Do I Know Whether the Inspection was Done Correctly?
The important thing is to go with a company you trust. The Oregon community and surrounding areas have relied on C & S Fire-Safe Services, LLC for fire safety inspections, equipment, installation and repair for the past 40 years.
We have developed the necessary experience, positive customer relationships and most successful service to remain a leader in the local industry.
Why Choose Us for Fire Inspections?
Your Best Interests – We always put client interests first.
Job Well Done – We stay until completion.
Honesty – Our communication is always open and honest with clients as well as business partners.
Information – You will be notified of all fire safety issues related to your business, employee and property.
Professionalism – We stick to the highest industry standards.
Call (541) 673-1337 to talk with an expert at C & S Fire-Safe Services, LLC about an inspection for your business.